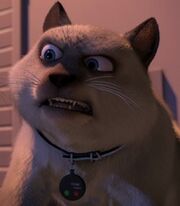 Prince Tigerius Mahmoud Shaboz, better known as Tiger, is a character in the Over the Hedge franchise. He is Gladys' former pet Persian cat and Stella's boyfriend.
Biography
Edit
Beginnings
Edit
Coming soon!
Coming soon!
Tiger makes a cameo appearance.
Personality
Edit
Tiger is a highly sophisticated, well-treated, somewhat arrogant Persian cat who adores his owner Gladys. He has never been abused and is shocked when Stella screams at him, but soon becomes love-struck.
After reuniting with Stella in the woods, Tiger becomes more laidback, carefree, and friendly.
Appearance
Edit
Tiger is a sturdy, fluffy, obese Persian lilac point cat. He has a flat, round face, small ears, a dark brown nose, short legs, small paws, and bright blue eyes. He used to wear a blue-gray collar.
Coming soon!